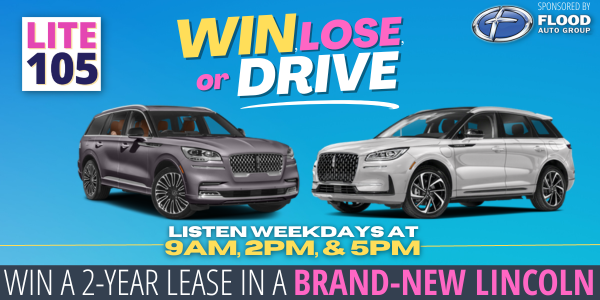 LITE 105 & Flood Auto Group Present… WIN, LOSE, or DRIVE!
We're putting YOU in the driver's seat this summer! Your chance to win a BRAND-NEW car returns to Lite 105 with WIN, LOSE, or DRIVE!
Each qualifier will score Block Island Ferry Passes and the Grand Prize Winner >>> WINS a free 2-year lease on a Lincoln from Flood Lincoln in Narragansett!
Here's How To Play:
Enter your information below and tell us what time you listen.
Listen to Lite 105 at 9am, 2pm, and 5pm each weekday.
Starting Monday, June 26th, if you hear your name announced on-air, you must call 401-272-LITE (5483) within ten (10) minutes.
When the DJ answers the phone and says "Hi Lite 105…", you MUST immediately and correctly say, "HEY LITE 105! I WANT TO WIN A NEW LINCOLN!"
If you can correctly say the greeting, you will get a pair of round-trip Block Island Ferry Passes, AND you're qualified to WIN a new Lincoln! ALL winners MUST also join us for the actual car giveaway at Flood in Narragansett on Saturday, August 26th from 10a-Noon.
Note: You only need to submit your information once. Multiple entries will not increase your chances of being called.
*This contest will not be played on Monday, July 3rd, and Tuesday, July 4th*
ENTER YOUR INFORMATION BELOW!
WIN, LOSE, or DRIVE is sponsored by Flood Lincoln, Southern Rhode Island's Largest Luxury Dealer!
Official Contest Rules Here.