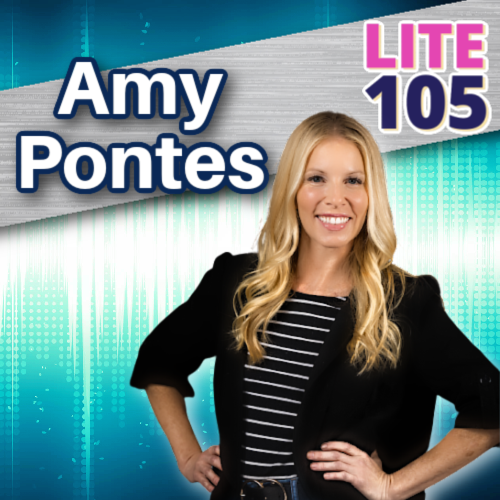 Weekdays 10am-3pm & Sundays 11am-3pm
Hi! I'm Amy! I live in Barrington, RI with my two daughters and our little orange tabby, Symba! I have been on the air in Southern New England for 18 years. You may have heard me here and there on other radio stations in the past playing music, reporting traffic, and on commercials! However, Lite 105 has been my home for 11 years now and I have loved every minute of it here!
Q & A with Amy Pontes:
When it's COLD outside, what WARMS your heart? Seeing someone helping someone else in need.
What should the Official RI State Smell be? A Benny's store.
What's your best cooking hack? Ordering take out.
Your best school vacation ever was… where? when? Who was with you? My trip to Washington, DC in 8th grade. I thought it was SO cool that I was going away with my friends and staying in a hotel without my parents. I wonder if my parents actually missed me, also, how the heck did they even know I was ok without the use of cell phones back then?!
When's the last time you wore a band t-shirt and who was the band? A few years ago, the band was Motley Crue, it's a vintage t-shirt I have.
Have you ever had a wild animal in your house or office? Yes, a couple of squirrels in my garage.
Based on your childhood wall posters, who should you be married to now? Jordan Knight from The New Kids On The Block
If your vehicle was shaped like your favorite food, what kind of mobile would you be driving right now? An Ice Creamobile