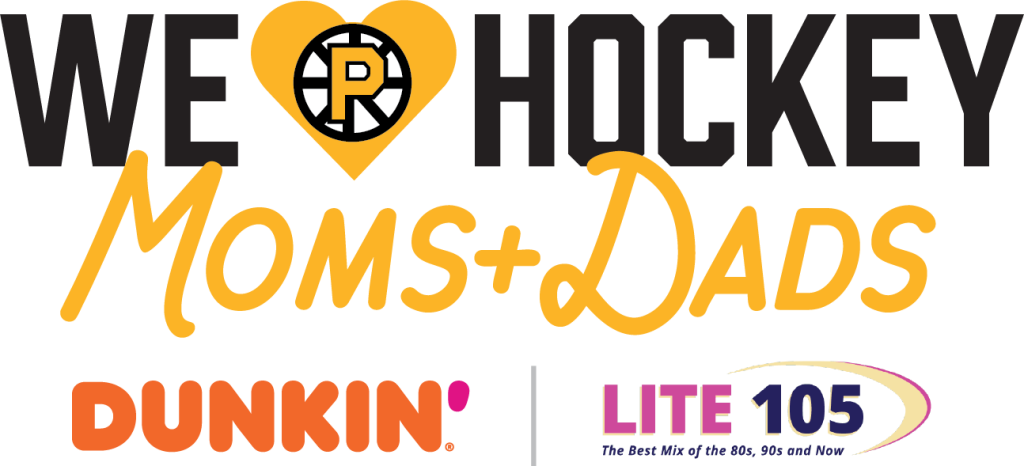 Are you a Hockey Mom? Maybe a Hockey Dad?
Enter below to win the ULTIMATE hockey experience!
A new winner will be drawn each week Mar 6 thru 31st. The 4 weekly winners will receive 4 Center-Ice Tickets for the April 8 P- Bruins game "LITE 105 NITE" plus P-Bruins shirts and hats, a player-autographed item, a special welcome on the jumbotron at the game, and prizes from Dunkin' and Lite 105.
Of the 4 weekly winners, ONE Grand Prize winner will be chosen and will be able to bring their Youth Hockey team out to the AMP for "LITE 105 NITE" 4/8/23) and that team will receive a team outing with 25 FREE 100-level tickets, a team Pizza Party, and will be able to skate on the AMP ice prior to the Providence Bruins taking the ice for warmups! Plus the team will be welcomed on the jumbotron and all the players will receive player-autographed P-Bruins hats!
How cool is that? Spread the word and ENTER HERE!
WATCH the video Heather & Matty made with Heather's son, Jack Perry, and Kai Wissman from the Providence Bruins!
Weekly prizes:
Week 1 Winner is: Sue Kelly – Hockey Mom from the RI Saints U14 team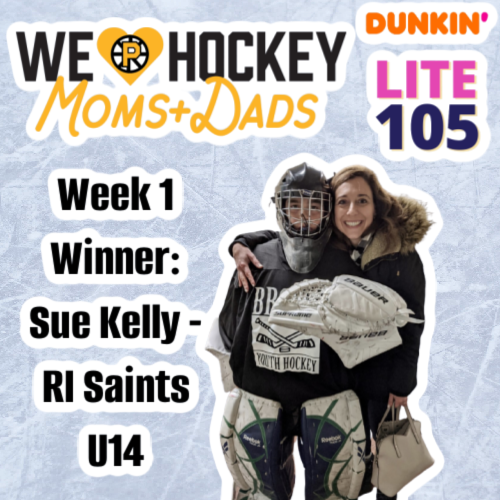 Sue was nominated by her husband, Don, who wrote: "My wife, Sue, is the ultimate hockey mom. Our son, Andy, developed an Autoimmune disorder called Alopecia which caused him to lose all his hair. He gave up all sports and became depressed. Sue encouraged him to try hockey since he could wear a helmet and no one would see him being bald. He tried it and loved it and got really good thanks to her support. Hockey helped change his life thanks to Sue. One year later he broke his collarbone badly playing hockey and Sue, who is a physical therapist, helped him recover from surgery to get him back on the ice and play again. His team went on to win the championship! Sue is an amazing hockey mom and my son's biggest fan! Even better, not only his confidence grew thru hockey, but his hair grew back too. Sue gets:
-4 Center-Ice Seats for the April 8 P-Bruins game
-P- Bruins Shirts and Hats
P-Bruins Player Autographed Item
-Signed Hat from our Captain Josiah Didier, Stick blade signed by Justin Brazeau, Rally towel Signed by Alex Voyer
-Prizes from Dunkin' including gift cards for everyone on your team! ($250 worth of $5.00 Cards)
The Week 2 Winner is: Robert Raver from the Southcoast Panthers and Attleboro Devils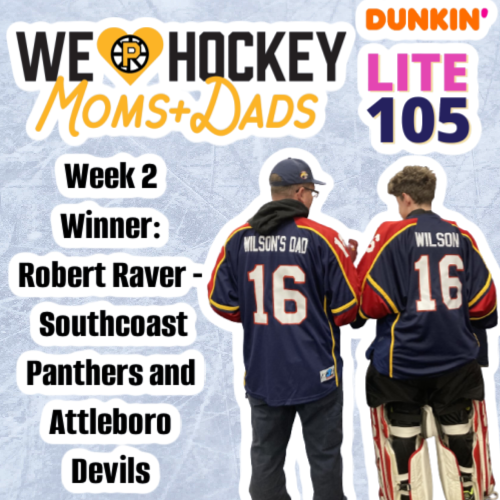 Robert was nominated by his wife, Jenny, who wrote : "Rob is our son's stepfather but no one even realizes. He stepped right in and took on the crazy role of a hockey parent without a second thought. He never misses a game and he is our son's biggest fan. This weekend he took naps in the car to make sure my son got back and forth to all the state tournament games. The pure joy on his face when my son won States was amazing. He is selfless and does everything he can to make our son's dreams come true."
Rob wins:
-4 Center-Ice Seats for the April 8 P-Bruins game
-P- Bruins Shirts and Hats
-A signed hat from Justin Brazeau, a stick blade signed by Connor Carrick, a rally towel Signed by Curtis Hall
– Prizes from Dunkin' including gift cards for everyone on your team! ($250 worth of $5.00 Cards)
The Week 3 winner is: James Ogram-  New England Knights Girls U12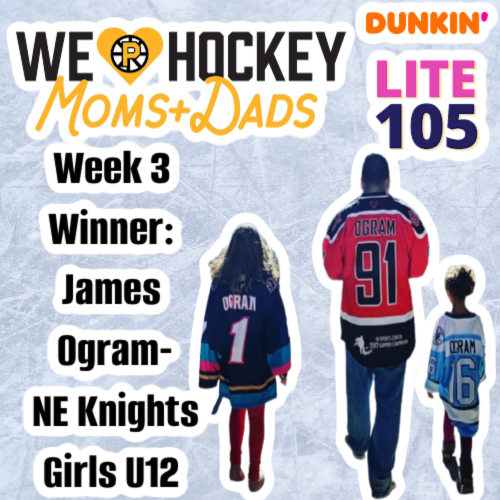 He was nominated by his wife, Jessica, who wrote: "I'm nominating my husband James because he has been my daughter's biggest fan and best coach since she started skating when she was 3 years old. I have watched him over the years encourage her and build her confidence, both on and off the ice. When she is down on herself, he lifts her up. When she needs advice, he is the first to give it to her. They have such a special bond over hockey. He has also taught our other girls how to skate and play hockey with such grace and patience. His love for hockey has brought our whole family closer together. He makes sure our girls know that they are fierce competitors and advocates wherever and however he can for girls' hockey."
James wins:
-4 Center-Ice Seats for the April 8 P-Bruins game
-P- Bruins Shirts and Hats 
-Signed Hat from JD Greenway, Stick blade signed by Alex Voyer, Rally towel Signed by Oskar Steen
– Prizes from Dunkin'  including gift cards for everyone on your team! ($250 worth of $5.00 Cards)
The week 4 is winner: TBD
-4 Center-Ice Seats for the April 8 P-Bruins game
-P- Bruins Shirts and Hats
-Signed Hat from Oskar Steen, Stick blade signed by Dan Renouf, Water bottle Signed by Curtis Hall
– Prizes from Dunkin' including gift cards for everyone on your team! ($250 worth of $5.00 Cards)